With the recent changes around the world and the vast majority of face-to-face lessons unable to go ahead, private cello lessons online are now considered quite normal. They offer you or your children a way to learn a new skill with a real person while still keeping yourself and your family safe.
I offer high quality one-to-one online cello lessons for kids and adults.
Learning Cello Online Without a Teacher vs Online Private Cello Lessons — What's Best?
In theory, you or your child could learn cello online self-guided without the need for a teacher, as could any adult. But in my experience, having an actual teacher 'present' makes all the difference!
Private online cello lessons with a tutor allow me to provide you or your child with timely and constructive feedback. This, in turn, will let them grow and progress as a musician by setting regular goals, and increase the likelihood of them being far more successful on their cello journey.
Aspects of learning a cello online that are definitely better addressed with a quality cello teacher live on the other side of the screen include:
One-to-one time with a teacher.

Training your ear to hear the music at a deeper level, including tone and the quality of the sound you achieve from your cello.

Identifying and correcting posture and bow hold issues.

Teaching music reading skills.

Providing valuable feedback on rhythm and note accuracy.

Assisting with difficult passages by offering unique solutions to overcome challenges as they arise.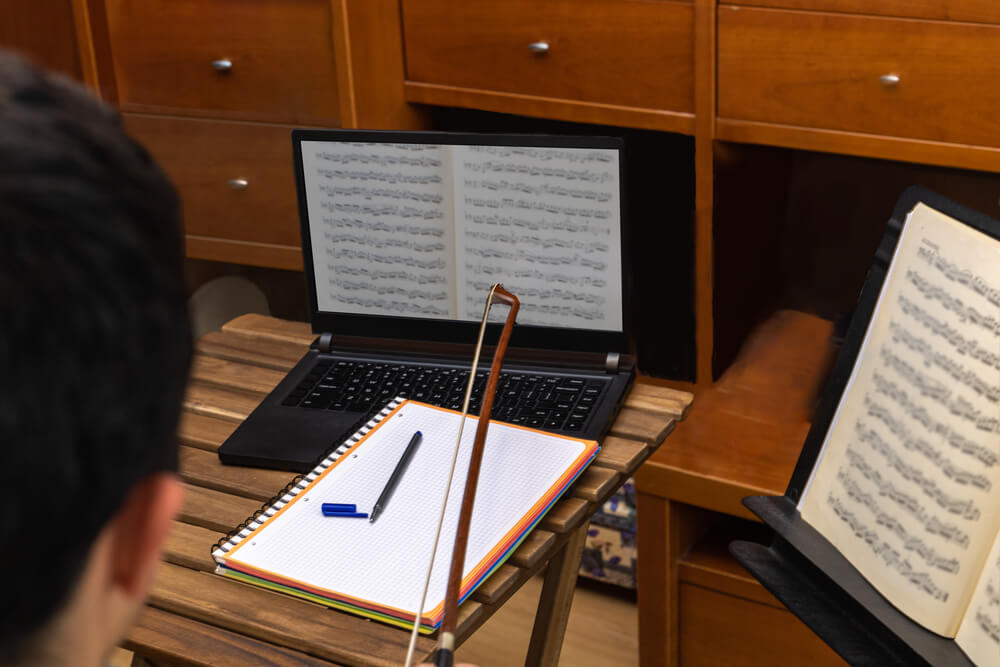 Self-guided online cello courses and programs do not provide students with a well-structured individualized progression, do not always teach good technique, and cannot give feedback on the tone the student is producing from their cello. Even if they do include technique and tone, many students, especially beginners, will miss this essential information.
Developing and practicing strong techniques, good posture and habits right from the first cello lesson will give your child a great foundation on which to build their cello skills. 
Call John To Start Your Online Lessons Today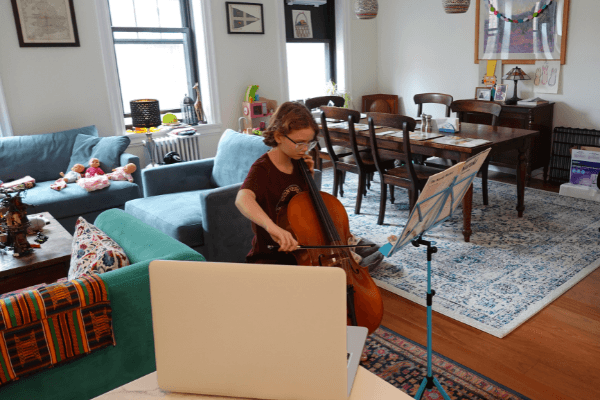 What Software Do You Use for Online Cello Lessons?
The app that I use is called Musico. It's a lesson management tool that allows both teachers and students to interact.
This program can be used for a range of different things — from making lesson notes, uploading pdf sheet music, recording audio and video that can be shared with the teacher or student.
Each student will have their own library of pre-recorded lessons and assignments, and best of all — it's all in one place!
What About the Music? How Do We Share Music Scores in Online Cello Lessons?
You will have your music, and I, as the teacher, will have my copy of the piece. Musico allows us to see and collaborate on the same score in real-time.
How To Set Up Your Lesson Space for Best Results?
For best results, you would need to set up your learning space as follows:
Ensure your camera is directly in front or just off to the side.

If you don't have room for a regular music stand, a tabletop version will work just as well.
Role of Parents in Online Cello Lessons
Parents should be on hand to assist their children with any technical difficulties that may arise during the lesson. This is especially important for online cello lesson beginners, who may be unfamiliar with using the system.
In addition, managing the cello, the bow, music stand, the music, and a pencil to take notes can be challenging — another pair of hands will always be appreciated!
Online cello lessons provide personalised private music lessons with a quality cello teacher in the safety and convenience of your own home.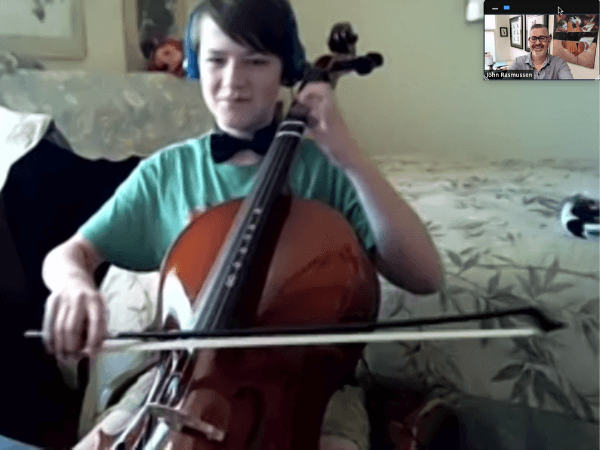 "Thank you very much for your cello class. My daughter Elva likes it very much. " 
— Jeff X. Tustin, CA

"John is incredibly patient with my 10 year old son. My son has progressed a lot in a short time and John makes playing the cello fun!" 
— Dana S. Irvine, CA
Call John to Start Your Cello Lessons Online Today