Hi, I'm John, and I provide quality in-person cello lessons for kids of all ages and abilities in my studio in Irvine, Orange County, CA.
Finding a cello teacher that not only has years of experience teaching children but can do so in an engaging way is so important. You can be confident that your child will develop a passion for learning music in this friendly and enriching environment.
I provide one-to-one cello classes for all abilities, from complete beginners to advanced cello players. My cello lessons for beginners create interest and enjoyment in learning the cello right from the start.
When beginning cello lessons, you can be sure that your child will learn to play the cello well, while also developing excellent technique, music reading skills and music theory — all under my watchful and nurturing cello instruction.
I teach in my cello studio in Irvine, Orange County, but if you're looking for cello lessons online, you can read more about my online cello lessons here.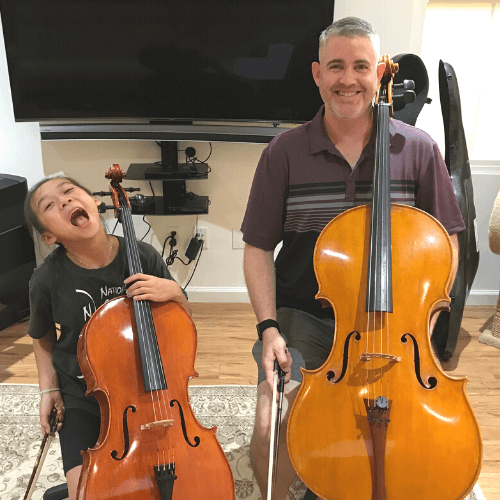 "Mr John Rasmussen is a naturally gifted musician & teacher. Our young son has made amazing progress in less than 1 year. We would highly recommend him for cello instruction. He has a masterful understanding & knowledge of music and is able to convey this in a professional & easy to understand manner. We are grateful to have such an exceptional teacher for our son." 
— Kaymarie K. Orchard Hills, Orange County, CA

"He [John] was quick to respond every time I sent him a message. When I met him for the first time, he listened to me very carefully. His soft-spoken and calm nature definitely helped my 5 year-old shy boy to relax and start having fun with him on the first lesson. We are so lucky to have found him!" 
— Atsuko P. Orange County, CA
Call John Now To Take the First Step To Providing Your Child With the Gift of Music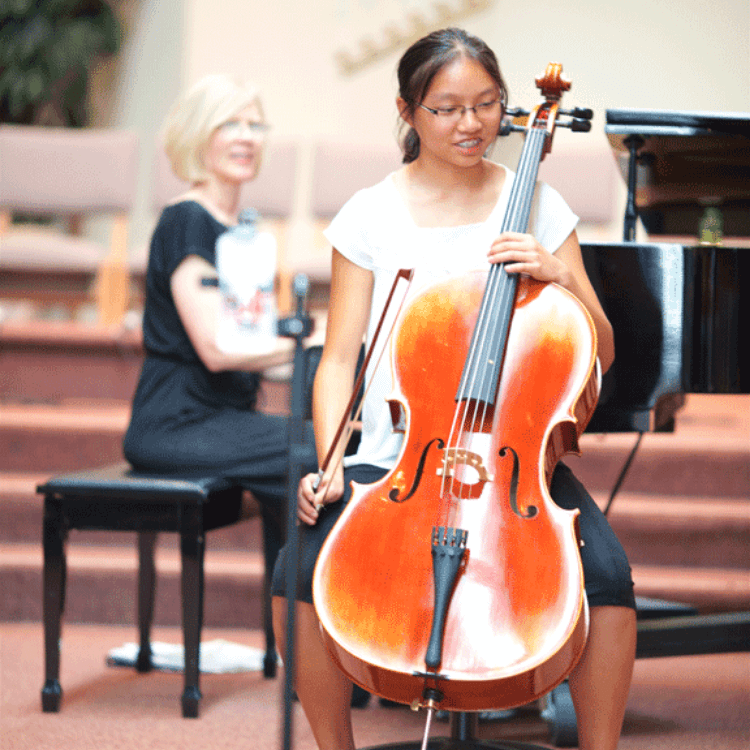 How Do I Choose the Best Cello Teacher for My Child?
When deciding on the best cello teacher for your child, there are a few things that you may want to consider first:
What type of cello teacher are they — independent private cello tutor or are they employed by a music school?

Do they teach beginners as well as advanced cello players?

Are they experienced in teaching cello to children? 

What format do the lessons take — private one-to-one, group sessions or online?

At what age do they start teaching children the cello?

What opportunities do they provide for their students to perform?

Do their students learn music theory as part of their lessons?

Are children encouraged and expected to practice regularly between lessons?

Does your child have the required time available to practice?
What Age Should Children Start Cello Lessons?
In my cello studio, I like to start children at around age 7. By this age, children have developed strong fine motor skills and are also well on their way to improving both their writing and reading abilities at school.
Fine motor skills are essential to play the cello. These are the skills that allow children to have control over small movements in their body but especially in their hands. While their improving reading and writing skills enable them to read music and understand the music theory in their lessons.
Another key skill developed by the age of 7 is their ability to listen and understand instructions. They are also able to transfer these instructions to their practice sessions at home.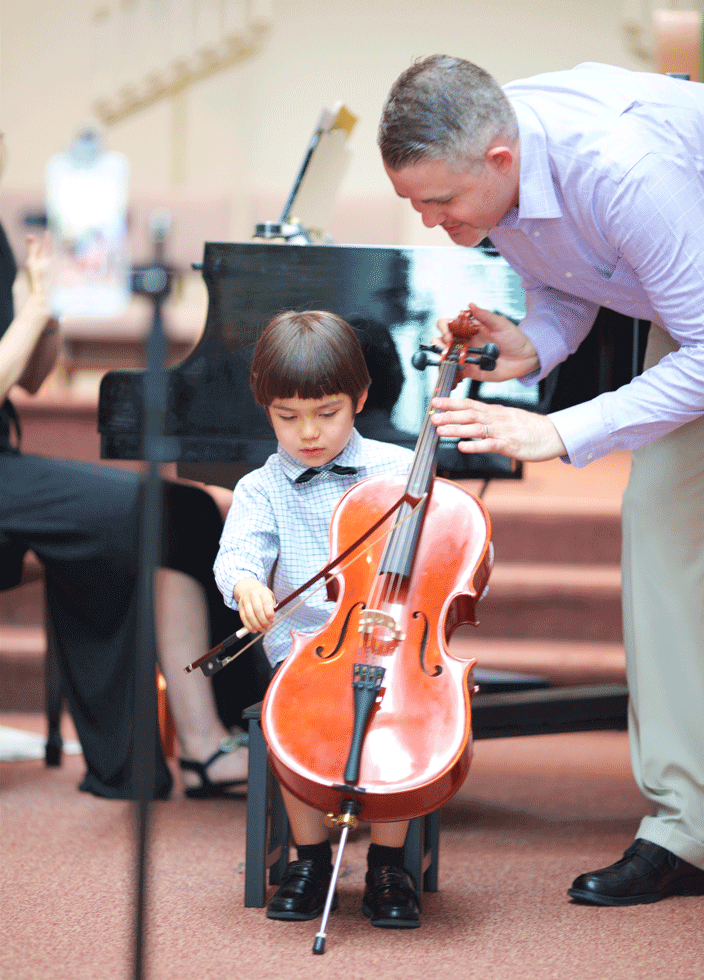 Will My Child Learn to Read Music?
They most definitely will. The ability to read music is an essential skill in developing your child's abilities as a musician.
Alongside the ability to sight-read music, children also need to understand music theory as well as the capacity to really listen to the music that they are playing. This allows them to not only play the music as it is written but also express the emotion of each individual piece as they perform it.
I teach cello lessons to children by providing them with a finely tuned balance of music reading, music theory and listening skills.
What to Expect from the First Cello Lessons for Children
For beginners, the first few lessons will concentrate on mastering the basics, these include things like:
Sitting and positioning the cello correctly.

How to hold the bow.

Making their first sound with the cello.

Introduction to reading music.

The most exciting part — starting to play their first tunes on a cello.
To begin with, progress will seem slow, but there is a great deal for them to learn and master. Regular practice and encouragement at home will help to speed up their early progress. Lessons are recorded. They can be watched before practicing to make sure the right things are being practiced. It's like having a lesson every day!
Recognition of their success as they achieve the small steps on their cello journey — such as gaining control of their fingers and learning to hold the bow correctly — will all make a huge difference to their level of enthusiasm through the first few lessons that can be a little overwhelming.
Call John Now and Get Started Today
Are There Any Music Books My Child Will Need for Their Cello Lessons?
Every cello student will require a notebook and music for their lessons. Students will also need to purchase recommended music as they progress. I will let you know what music books your child requires at each step of their development.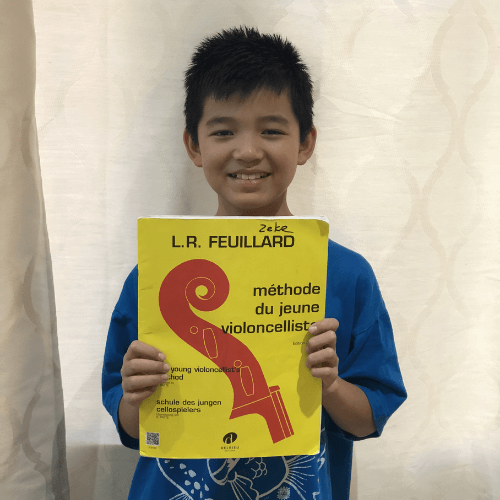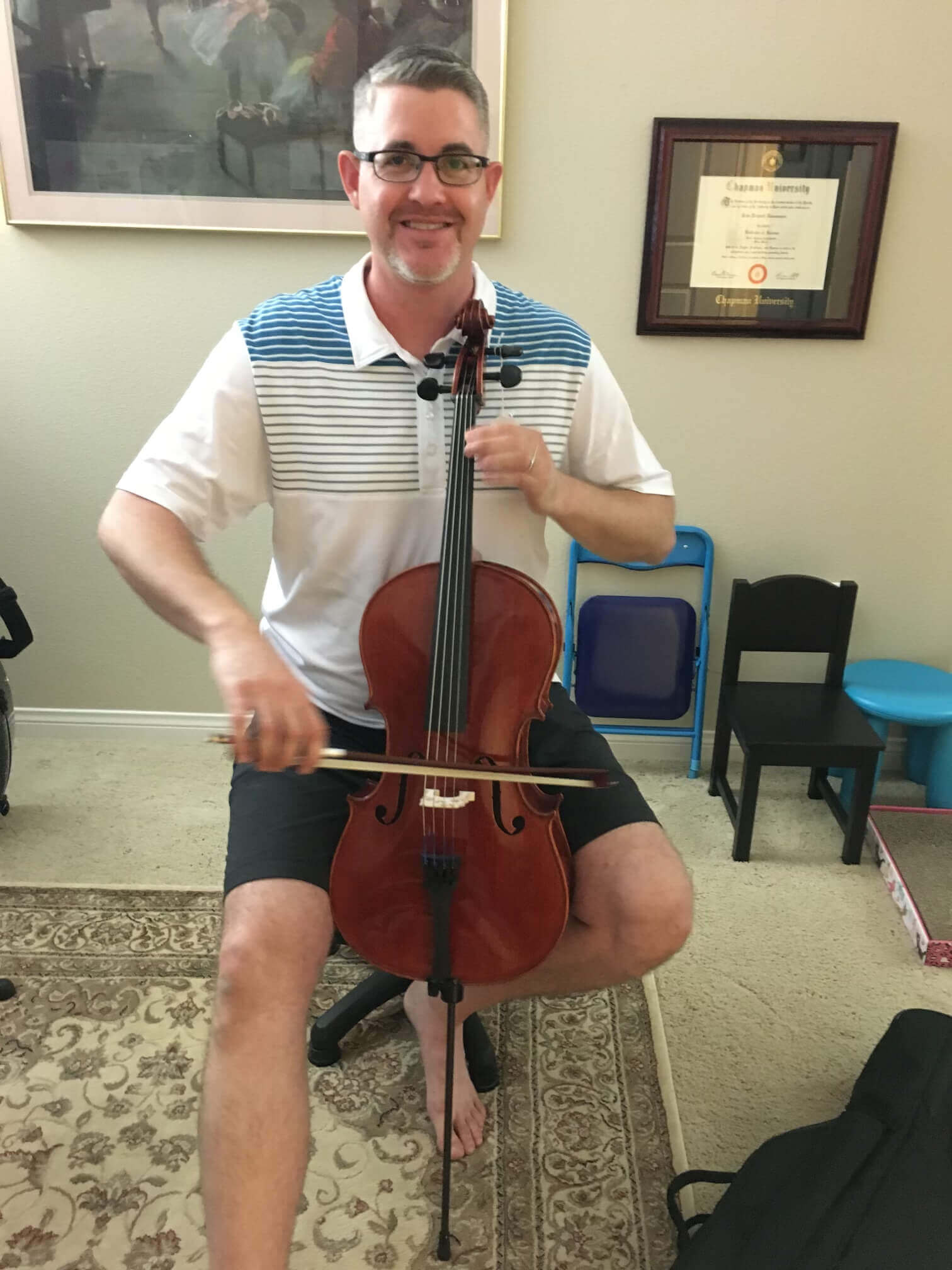 Do I Need To Buy a Cello Before My Child Starts Lessons?
You will need a cello before your lessons begin, but that does not necessarily mean that you need to buy one.
Until a student is around 5 feet tall, which is the minimum height in order to be able to handle a full-size cello, your best option is to rent an instrument.
Renting a cello from a reputable violin store is a great option when your child is just starting out. Purchasing a smaller version doesn't make a lot of financial sense for you as parents.
Fortunately we have a reputable store locally from which you can hire a small cello until your child is ready for their own full-size instrument.
How Much Cello Practice Should My Child Be Doing?
Like any other skill they want to master, they need to practice regularly, and the cello is no different. The most progress and success will be achieved by practicing every day for the same length of time as your child's cello lesson.
For example — a student who has a 30-minute cello lesson should be aiming to practice for 30 minutes each day at home. If they're finding it difficult to concentrate for the entire period, they can break this down into smaller blocks of time throughout their day. Their focus and concentration will develop gradually.
I understand that sometimes life can be hectic and daily practice is not always possible, but if the expectation of them is to practice daily, then they are far more likely to achieve this and see progression — which will motivate them to continue. Of course, students who want to practice more are encouraged to do so! The more a student practices, the faster the progress and inspiration!
Those students that are committed to regular daily practice are more likely to see success with the cello and therefore tend to be more motivated to practice — it's the circle of success!
Some Additional Questions You May Have
The best way to learn cello is to find an experienced cello teacher. They will be able to guide your child expertly through the process of learning the cello as well as providing them with support on sight-reading music and music theory.
How Much Are Kids Cello Lessons?
Give me a call, and we can have an informal chat about the lesson requirements, skill level and costs. Your child's first lesson will include a notebook, login to Musico, first etude book and their first book of music pieces.
Learning the cello isn't difficult but unlike some instruments, you don't get that immediate sense of playing well. The ability to learn any new skill depends on many different factors. The cello requires focus, daily practice and of course a good teacher to help you on your journey.
Cello Lessons for Kids Orange County, CA
If you're looking for a cello teacher near Irvine, Orange County, you will find quality music tuition here!
Situated in Great Park, Irvine, CA.
Neighboring suburbs include: Woodbury, Cyprus Village, Stonegate East, Stonegate, Portola, Portola Springs, The Groves, Northwood, Orchard Hills.
I am a short drive from Tustin, Costa Mesa, Orange, Santa Ana, Foothill Ranch, Lake Forest, Newport Beach, Mission Viejo, Dana Point and San Juan Capistrano.
Find Out More About the Best Cello Lessons for Kids in Orange County. Call John Today!